News
Puppies born at the 5 June 2017 with Sandra Melgers from the combination Idylle van het Balgzand x Fabio van het Balgzand.
Karen Golden wins with Kaylo van het Balgzand the Britse Bolognese Club Show 2017 and was in the newspaper! Look up at results.
Crufts 2017 Two Best Bitches from Kennel van het Balgzand. Look up at results.
Hope van het Balgzand and Idylle van het Balgzand recieved their International Championship in 2016.
Born at 6 fFebruary 2016 puppies from Hope van het Balgzand, 1 male and 2 females.
Puppies are born at family Schrijnemaekers from Fame van het Balgzand. 3 Females and 2 males, 1 male is available.
Puppies are born at 3 November and all spoken for. Three Males and 1 Female.
We are expecting puppies from Gaya in November 2015 !!
Crufts 2015 Hope van het Balgzand wins Crufts for the Bolognese! 4 Dogs of Kennel van het Balgzand shown on Crufts. Look up at results.
Hope van het Balgzand gained her Dutch Junior Championship before the age of 1 year.
Reunion from litter H and Iat 13-09-2014, what a lovely day we had outside with all the dogs, and they enjoyed each oterh so much. So nice that there so many of you came, all of them from litter I!! Also so good to see that all the puppies have a great home, compliments to the owners for taking so good care of the dogs, they looked beautiful and very happy!
At 29 July 2014 we were very happy to welcome in our kennel the male Hunky-Dory FS Prince Charming from the breeders Fredrika and Lotten Rönquist from Sweden.
He is called Sudden.
Beautiful gift from Sandra Melgers, thank you so much!!
| | |
| --- | --- |
| All our dogs | |
And a delicious birthday cake for Gaya, the dogs loved it!!
The puppies from Gaya x Aramisz are born at 29-03-2014. 3 Males and 1 Female.
The puppies left to their new families.
3e Symposium Bolognezer in Helsinki 7 Augustus 2014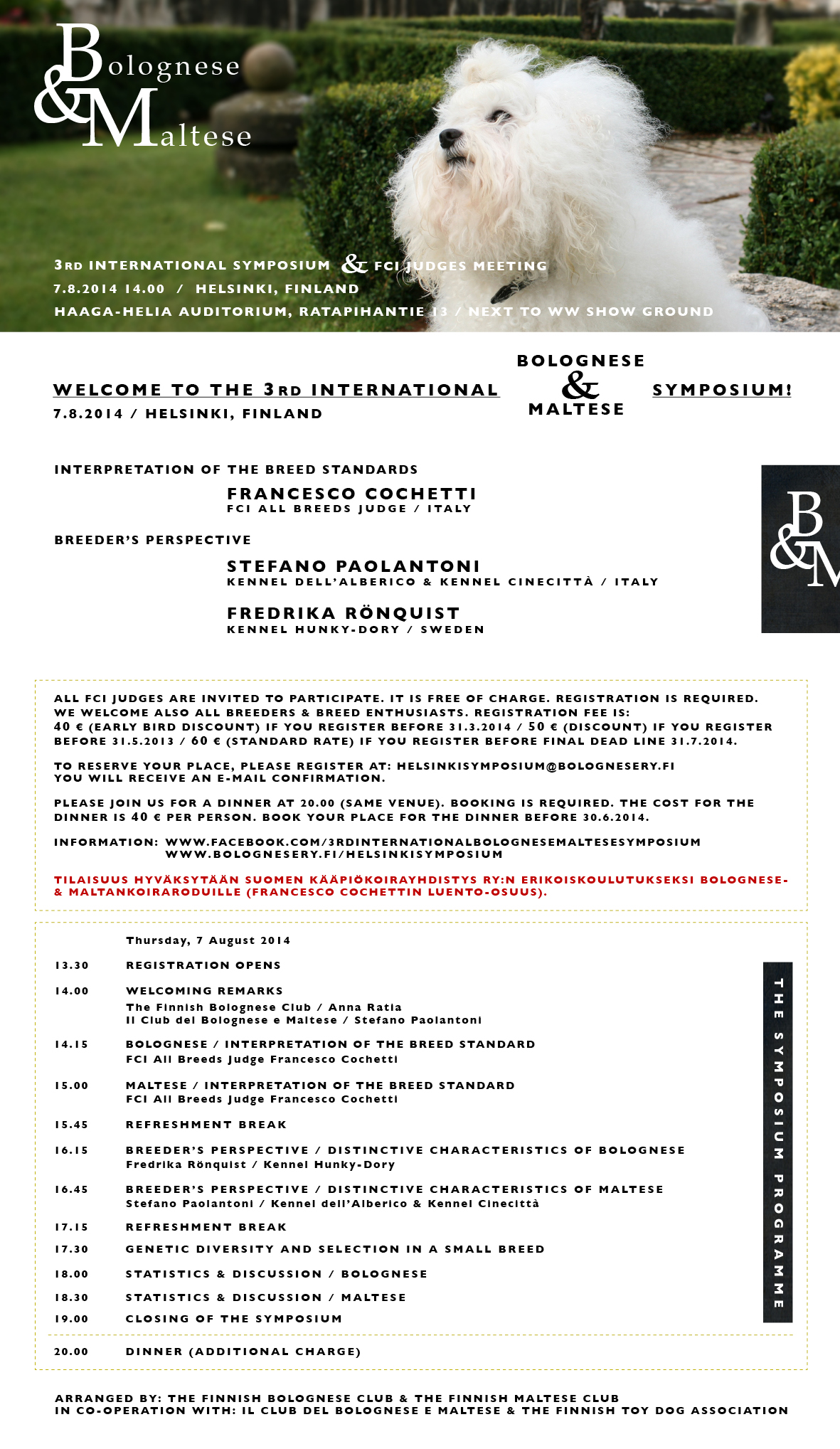 Puppies expected from Gaya x Aramisz end March 2014

Farina von Ajaccio (Bente) Dutch Veteranen Champion at 10-11-2013

Dylan van het Balgzand Dutch Champion at 05-10-2013

So sorry so sad news.

Bibi- Faiella has died on 15-10-2013. We wish her owner Sandra and her parents all the strength they need. She meant everything to you....

Thank you Sandra for taking so good care of Bibi, she could not have found a better and sweeter owner. And even if it was short, she has had a beautiful life with you ful of love.
Lieve Bibi - Faiella

Tears are sliding over my cheaks all the time

when I think about my little Bibi.

On 15 October 2013 you have left me in a really long deep sleep, for you the well-deserved rest.

I still love you my little girl. .

Never you will go out of my hart or my mind,

Not at all how you looked at me and how happy you wagged your tail when grandma and grandpa came.

You were always chearful, you made me so happy.

I was so happy with you my little white cotton candy.

But now it's so weard when I am staring at your little urn,

I wanted you still were with me.

The vet and I thought that you would get well again.

I would so much like to hug you and tell you how much I love you.

When you were still alive I could give you a thousand kisses, I cannot do that anymmore now.

Now you will live on in my hart forever.

Dear Bibi, out of love I have let you go, you were tired and your little body could not take any more.

Miy dear dear Bibi rest in peace
The puppies are born at 06-10-2013, two males and one female.
First offspring from Van het Balgzand Dutch Champion!! Dylan van het Balgzand 1Exc. in Open Class Males in Zwolle CAC, CACIB and BOB.
Adriana 2th in the class 6 till 9 months at the KCWF Young Dogs Day 8 September 2013
Her 1first show.
Pups expected in October 2013 from:
Chanel Canis Bohemia

Int. Dutch, DutchJ, Lux, LuxJ, German Champion,

CW2009, Cruftswinner 2010

Gyongyosi Phelyhes Aramisz

Pol. Champion
Holiday photo's 2013
Dylan
Joey
Bengi back in England again and became third in open class at Crufts 2013.
So happy with these photo's of me and Bengi taken by Daniela and Omar Tosseli. Dennis Mulligan made the photo with Bengi and his sun and daughter who were also and Crufts. A real present!!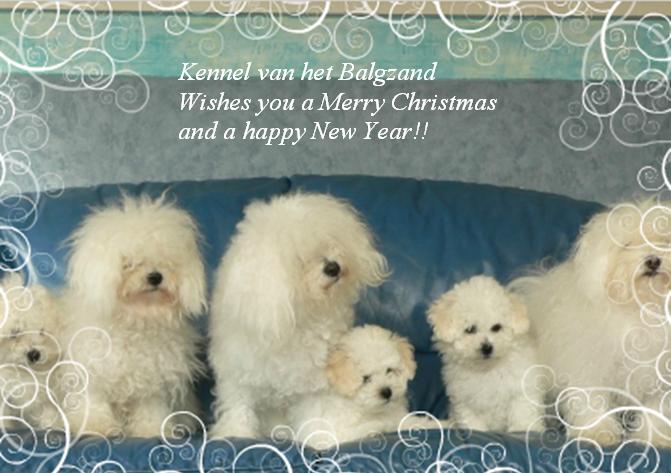 Bengi, Aimee, Bonnie and Anya came over for a short stay for two weeks. Feels so good to touch, see, hug, spoil..............them.
And most beautiful, Bengi is going to stay even longer!!
Beautiful weather for a walk on the beach.
These almost graduate veterinarians had a very good time with the Bolognese.
Timber leaned all sorts of trics, from Hi Five to Box, very funny Marja!
Holiday Pictures 2012
Bibi - Faiella
Danilo
Dylan
8 July 2012 we had the return day of the litters F (Chanel x Bengi) and G (Gaya x Bengi). 7 Puppies and their owners came towards our home. too bad the others could not come, but they provided us with photo's so they were also alittle bit around. Was so good to see them all again. What have the grown into very sweet and lovey dogs, so full of life. All of them found a very happy home! I am happy!!
Too bad there was a lot of rain that day. But luckily in between we found some time to go out with the dogs, so they could have their play together, Little Tarah kept them all going! And all the dogs had a good smell at each other. Sandra made a present for all the dogs, big and small, they liked it a lot! Thanks Sandra!!
March 2012, a very nice short stay in Engeland, especially because I was able to see Bengi and Aimee again. It was Great!!
| | |
| --- | --- |
| My love ones, Bengi en Aimee | Aimee already one year old |
Crufts 2012
There were entered this year 51 Bolognese and only 3 of them weren not at the show. I was asked by Shirley from Moorhey Bolognese to show Bengi. Lovely to see him again, and what a lovely dog to walk with in the ring, he always enjoys it, so great. Bengi became third in the opan class, where 11 Bolognese were shown. Shirley herself showed her female and own breeding Moorhey Spring Flower and became second in the post graduate class. Great results for her and the dogs. It was alovely day with lots of bolognese dogs and their owners/showers and a great atpmosphere. It made fun!
Ebbie at the beach her favorite spot!

Thanks José for this beautiful picture.

A painting from Annette Jonk

Thanks Annette!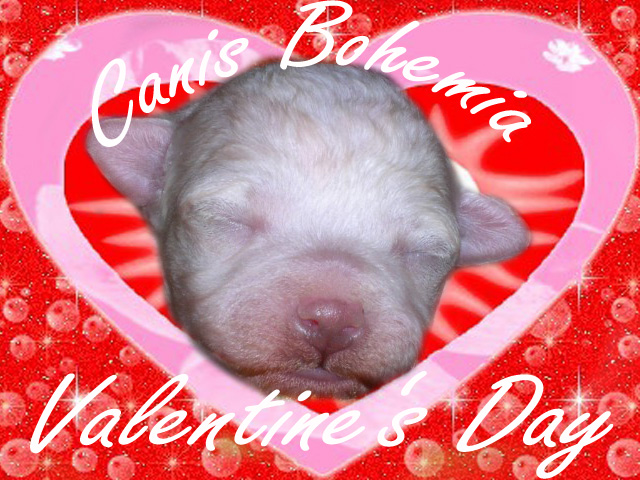 Orion Canis Bohemia
Interview with Kennel van het Balgzand
The puppies from Gaya x Bengi are born at 09-12-2011
Gwyneth, Giulia, Giuliano, Gardian en Geronimo
Gaya Blanc Jizeska Protez is mated by Predatino Bengi, pups expected half December 2011.
Bengi and Aimee left our hoime on Sunday 13 November to go with Shirley to their new home in England at Moorhey Bolognese. it is very quiet over here now, but we know that the dogs will have it very good over there. Shirley is very happy to finally have them. We whish them all the luck and happiness together.
Reunion E litter 13 November 2011
Thanks Gretha for the beautiful photo's of Dylan, a puppy from Pebbles, also for the great attendance of him, fantastic!!
The puppies of Chanel Canis Bohemia and Predatino Bengi are born at 28-09-2011, 3 males and 2 females.
look at puppies
Holiday Pictures
| | |
| --- | --- |
| Dylan is making miles | Danilo at the best spot |
| | |
| --- | --- |
| Chiara and her crew in France | Tybo (Ennio)and family at the Frisian Waters |
Emily is going to England also, she will accompany in time her biggest friend Bengi at Moorhey Bolognese.
She has had her rabies test and her titre is found high enough to travel to England after her incubation time, which will be in October.
Chanel inseminated at 03-02-2011
'White Christmas'
We have puppies from:
Gaya Blanc Jizerska Protez x Dago Bell Valasta
Born at 24-12-2010
3 males and 2 females
Our Christmas card and one made by Canis Bohemia from Chanel and me.
Expected 'White Christmas'
we are expecting puppies at Christmas from:
Gaya Blanc Jizerska Protez x Dago Bell Valasta
Temporarily trusted in our hands Predatino Bengi
Bengi will stay with us untill he is allowed in the UK. He is a very sweet and lovebale little dog and we are very glad with the time given to us to enjoy him. Bengi's new owner is Shirley Hewitson from Moorhey Bolognese, and we are certain that he will get the same amount of love and attention as he is getting here with us now, he is so sweet, you cannot deny him anything! . http://www.moorheybolognese.com/
13 Juni 2010 Reunion Day litter C and D.
It was a very nice day, people and dogs were having fun. It was so nice seeing owners and dogs again! Such a great occasion to exchance experiences. And they all did!!
| | | | | |
| --- | --- | --- | --- | --- |
| Caitlin | Cane | Cassy | Chessy | Chiara |
| Dae | Danilo | Dawn | Dean | Dylan |
Chanel Canis Bohemia wins Club Trofee for Best Bolognese 2009!
Chanel received her Clubchampionship in the CZ, her land of birth. She got it at 14-03-2010
Chanel wins Crufts 2010 for the Bolognese!! Look it up at shows.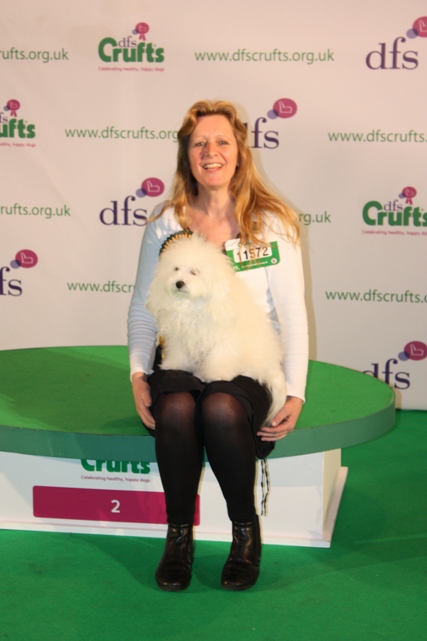 Chanel received at 07-02-2010 in Eindhoven the final CAC that she needed for her Dutch Championship!!
The Championship is confirmed by the Dutch kennelclub
Born at 12-12-2009 the puppy's of Pebbles, 2 females and 3 males.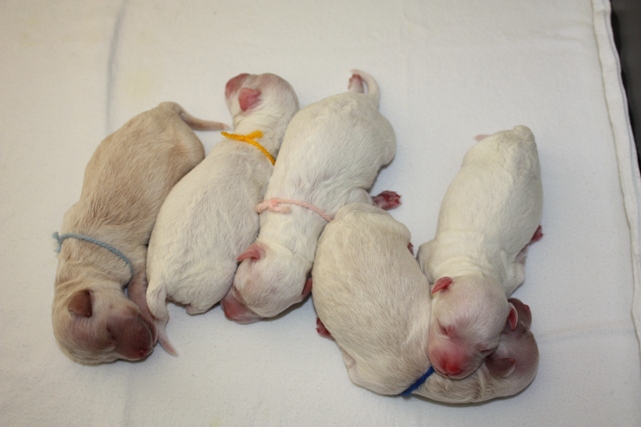 Chanel 2e of the Bolognese females at the World Dog Show!!
Chanel 1e in de intermediate class in the CZ at the clubshow and 2e of all females
Chanel Canis Bohemia Club Champion 2009!!!! and 5e BIS
Kitten Canis Bohemia 1e in the puppy class and 2e BIS Puppy.
10/11-09 All puppys are microchipt, vaccinated, inspected by the vet and found in perfect state and tested free of Liver shunt.
The puppy's are born!!!
24 July 2009 at 4 o clock in the morning.
4 females and 1 male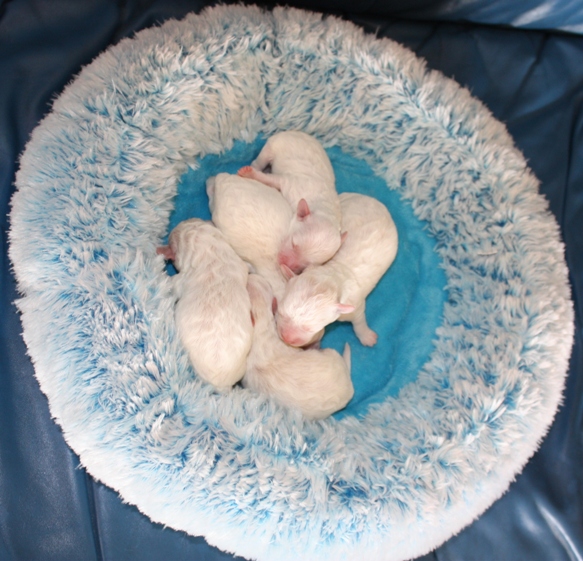 Chanel has achieved her Youth Championship!!
| | |
| --- | --- |
| | Thank you Iva for creating this picture of Chanel. |
8 December came another Bolognese in our kennel. Chanel Canis Bohemia from the Czech Republic. We are very thankfull to the breeders Iva en Zdenek, whom delivered her to us in very good shape.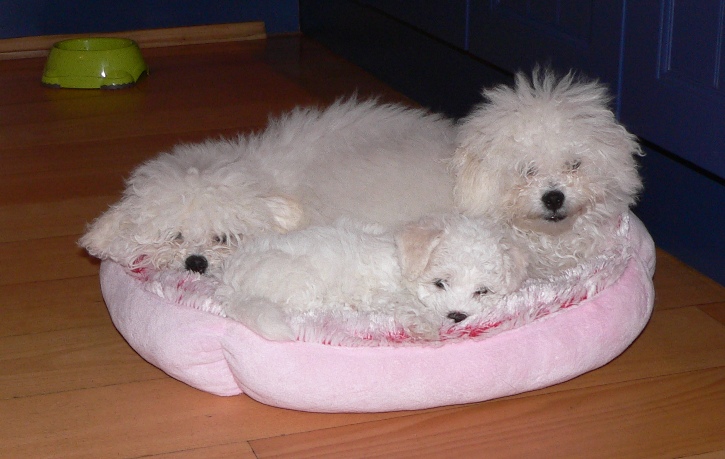 At the Clubshow of 2007 all three puppy's of Bente and Gaya got a very promesing.
Pebbles became 2e with a U in the youthclass and got the reserve CAC
Family Zwijnenburg thank you very much for being there, so it looked like a little reunion and gave us the chance to see that beautiful little man again, we've enjoyed it!!! He has found a very good home with you and he is so very fond of Demi!! Thank you for that! He stays our little hartbreaker.
Gaya 9 weeks old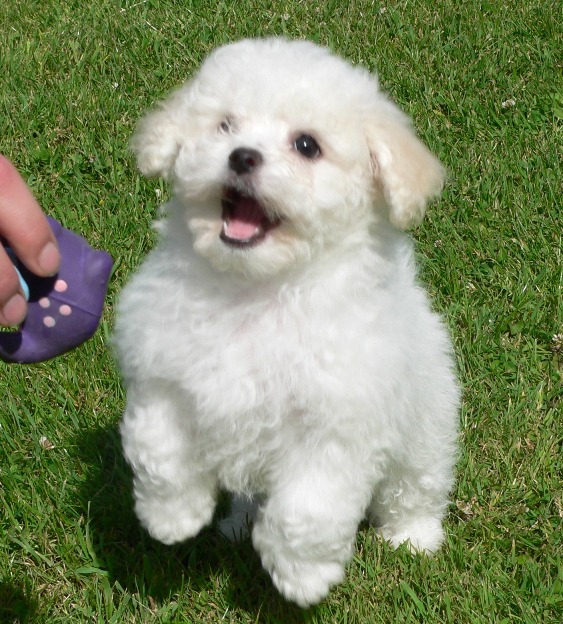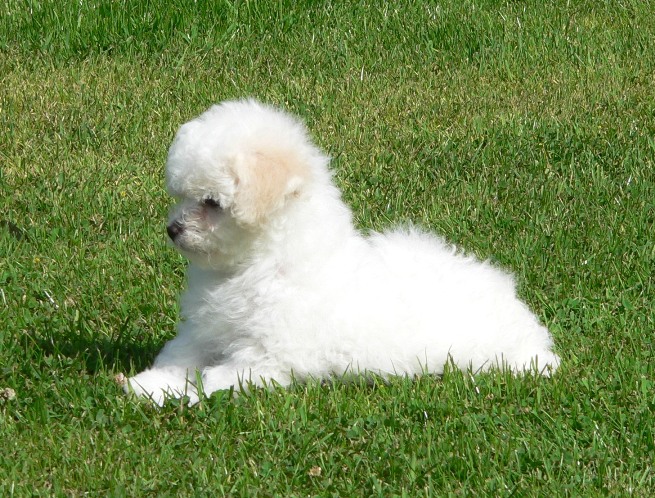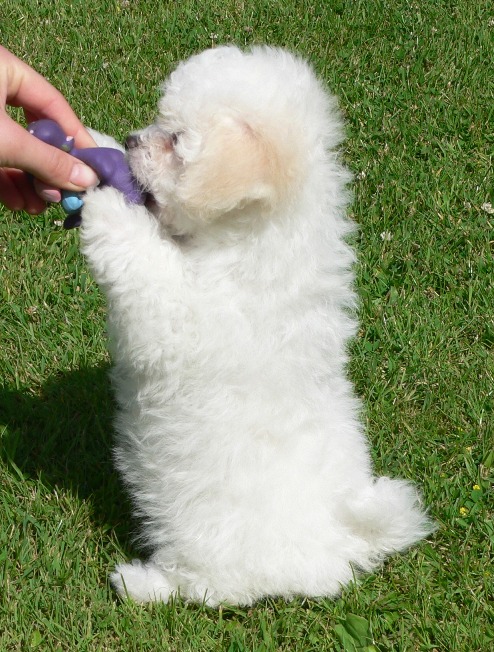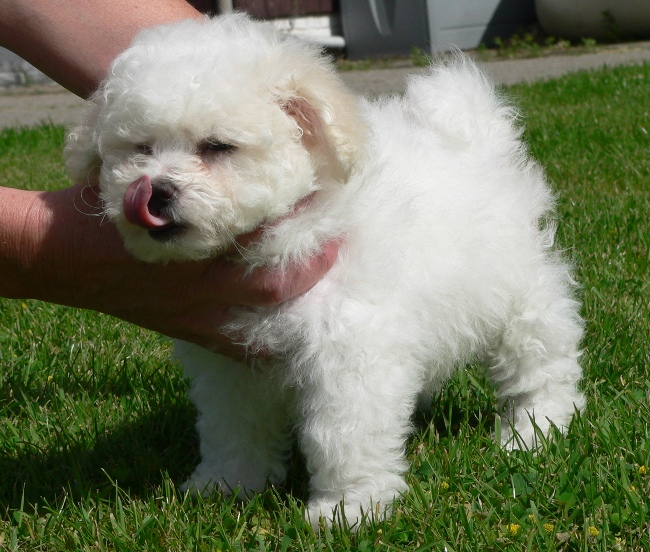 Monday 23 july 2007
We've got from the Tsjech Republic: Gaya Blanc Jizerska Protez. Her brother Google also found is adress in the Netherlands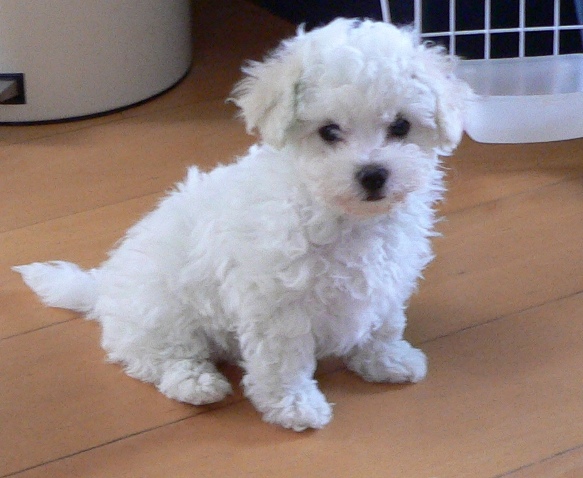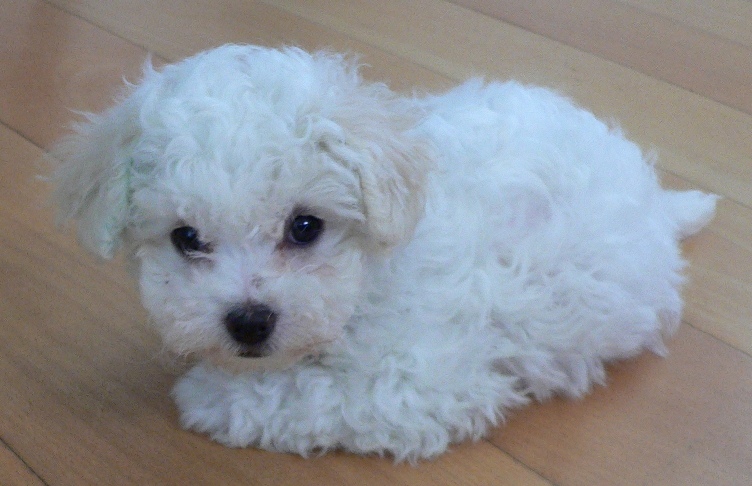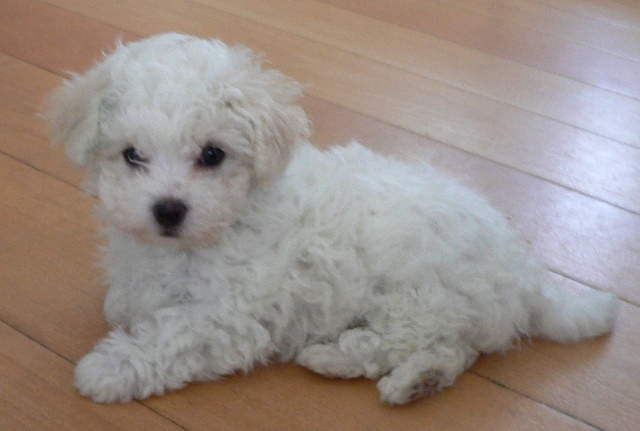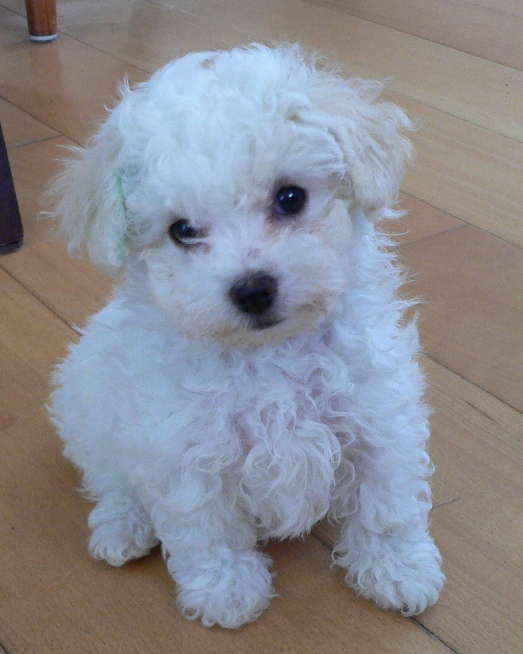 Gaya 8 weeks old
Puppy's born at the 4th of july!! See puppy's page
Pebbles has succeeded for her puppycourse at 04-06-2007, with all ++
Bennett has succeeded at 04-06-2007 for the obedience course B2, he was the best of his class!! Gongratulations Lyn, well done.
At the 1Mai Bente has mated with Evening Star from Ajaccio, look at pups link!
Bente 1 april 2007, BOB in Luxemburg. Herewith she has become International Champion and Champion of Luxemburg!!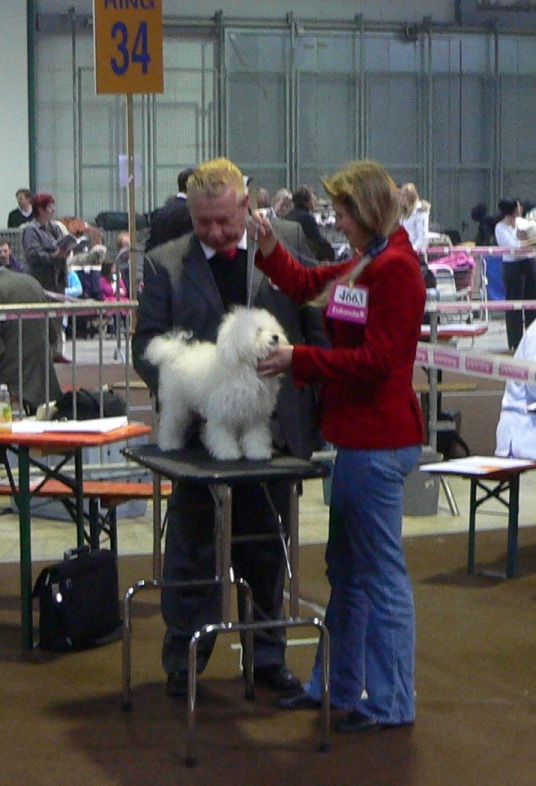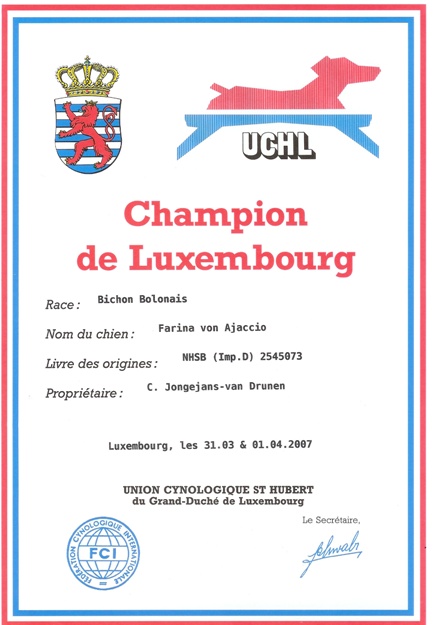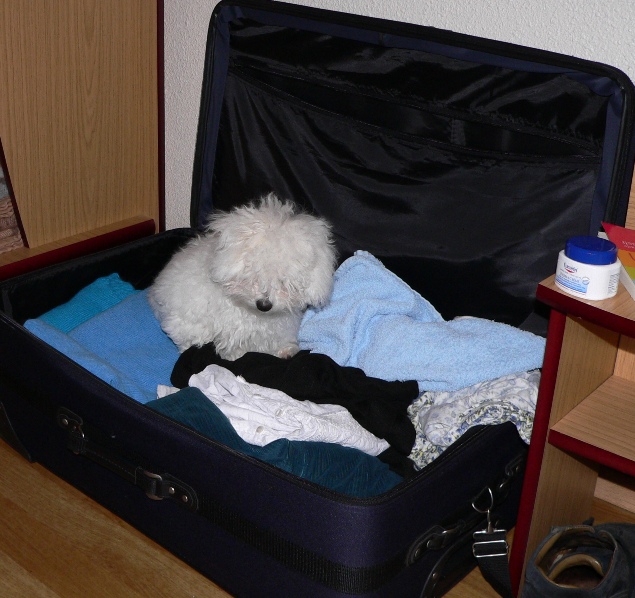 Judge Mr. Walter Jungblut Pebbles can not be forgotten on our trip
Bente 5th of Group 9 in Hoogstraaten!!
The 25th of februari 2007 at the dogshow in Hoogstraaten Bente got her CAC and CACIB, she became BOB and should appear in the ring of honour for the Bolognese rase. She became 5th of group 9, the compagniondogs. This is for the Bolognese an unknown experience!!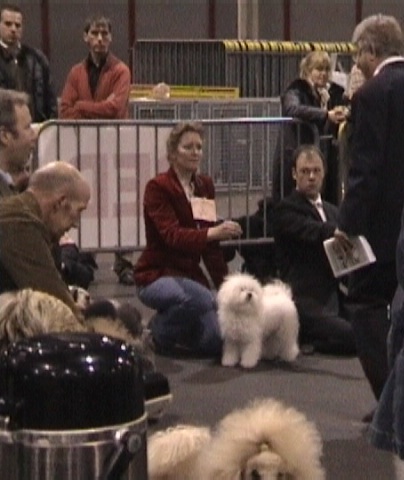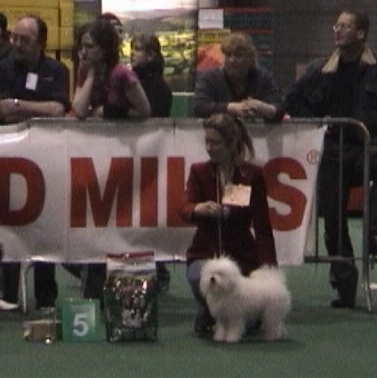 21 maart Bente acchieved with agility *STAR*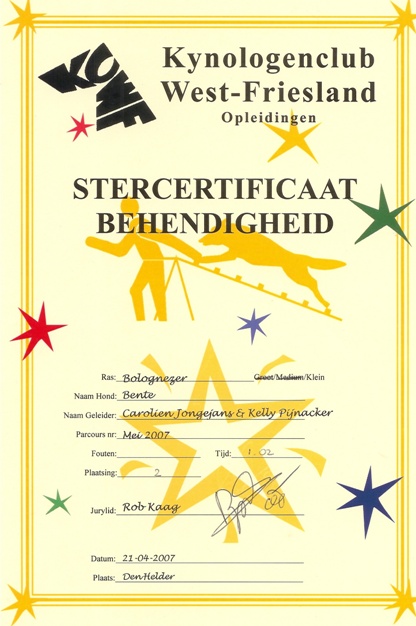 Pebbles 13 weeks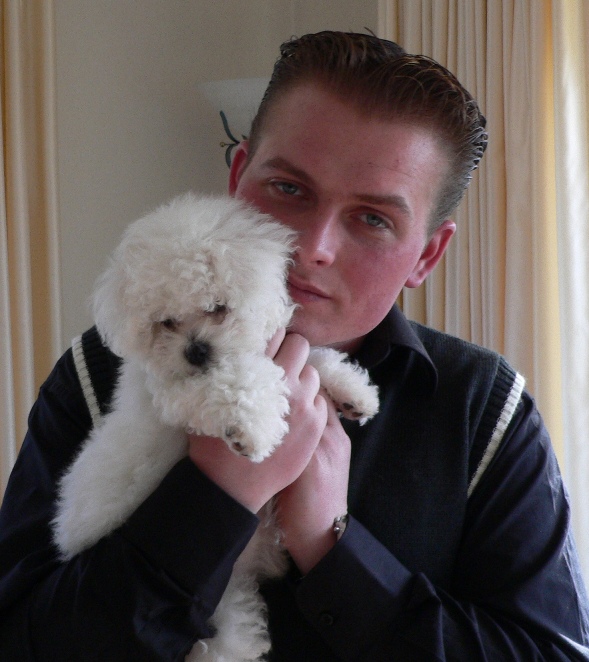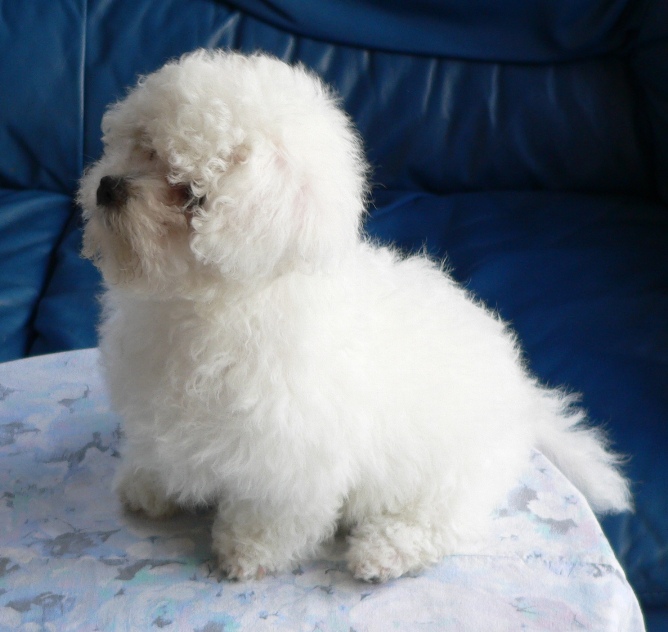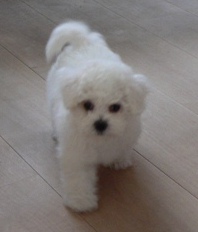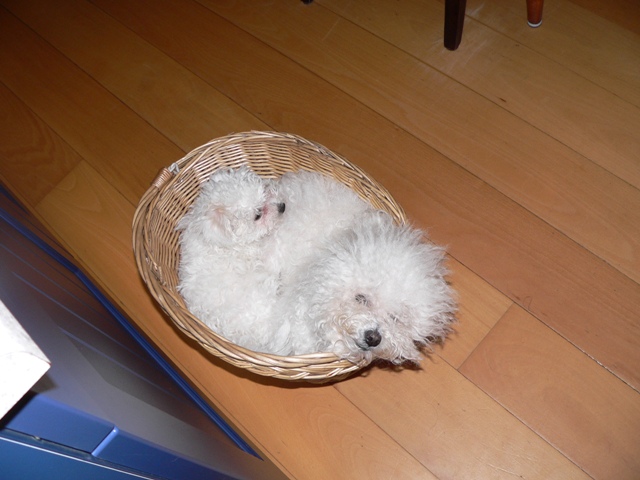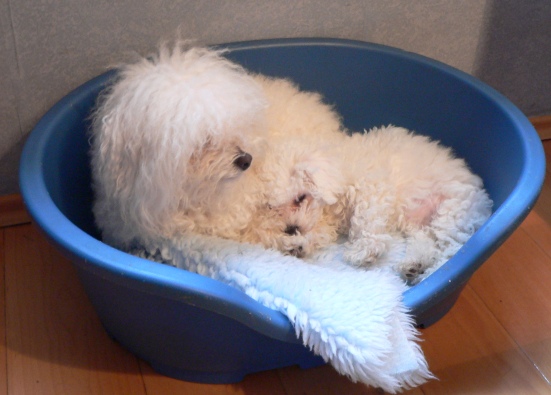 Bente is a great substitute mother! It is very comfortable at her side.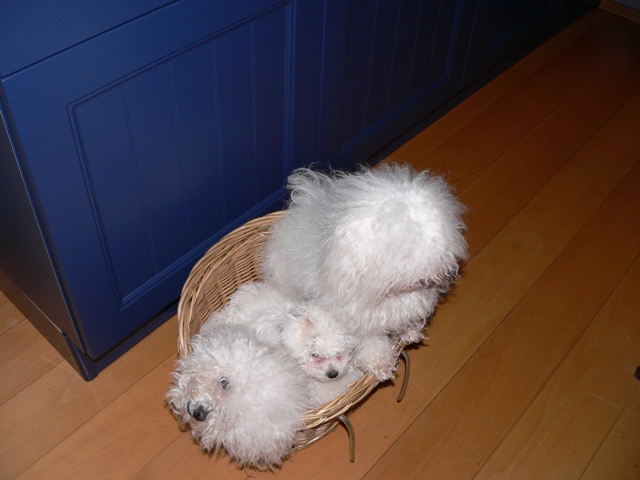 A little tight with the three of us, but cosy.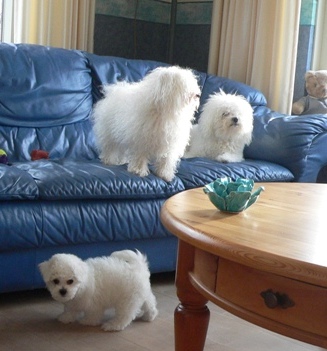 I also want on the cauch how do they do that?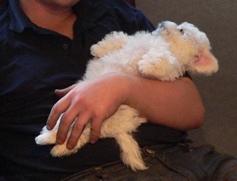 My belly is filled and then it is good relaxing !!
Februar: Lyn and Bennett succeeded in their obedience class.
Congratulations!!!! Succes in the B2!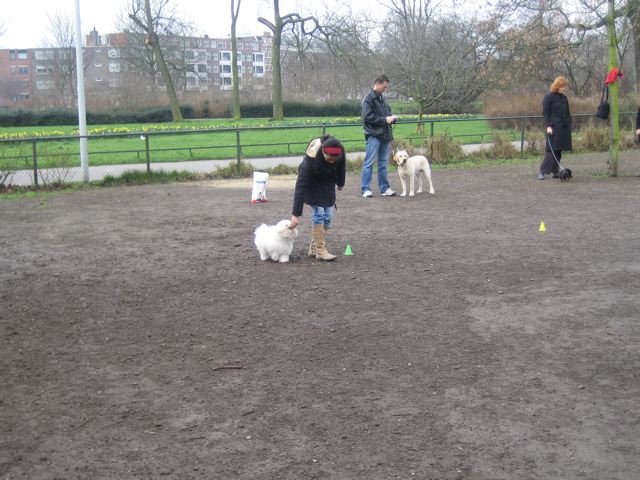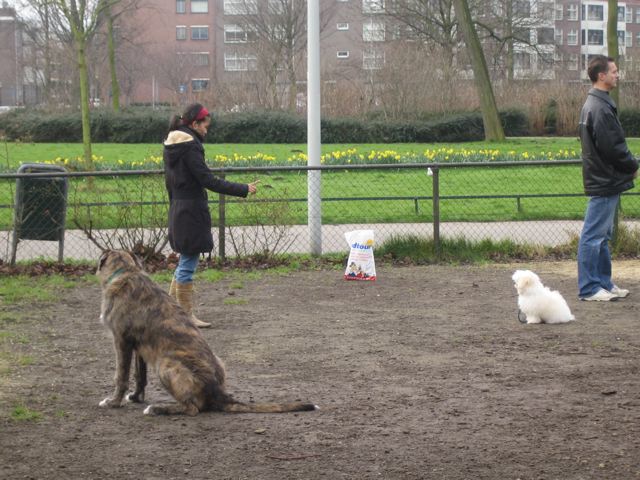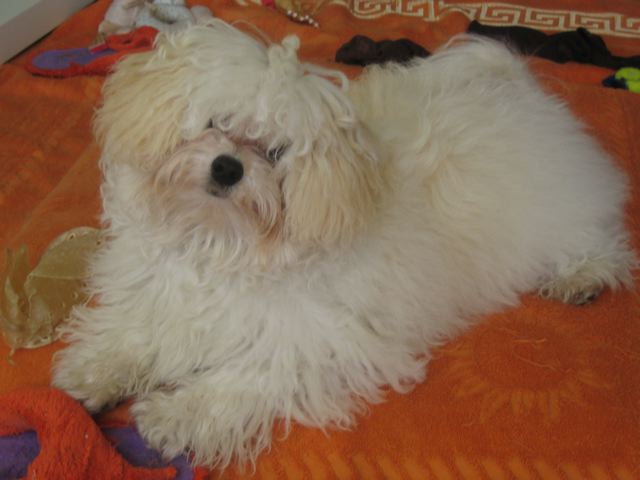 Februar: Abbaio visiting us, what a dog!!! Pebbles enjoyed him!

Bente and Timber enjoyed him too.
8 Januar 2007
A new member of the family!!!!
Living with us now: Pebbles.
Pedigree name Akse of kennel Od Ceske Lipy
She is a sister of Ginger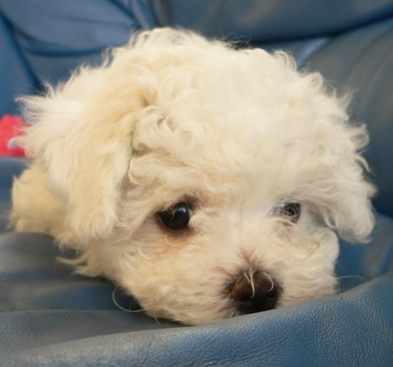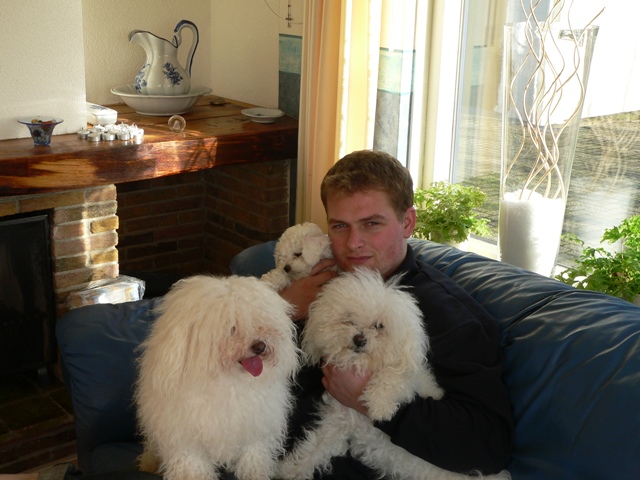 Pebbles Now there are three of us Ofcourse right away to the horses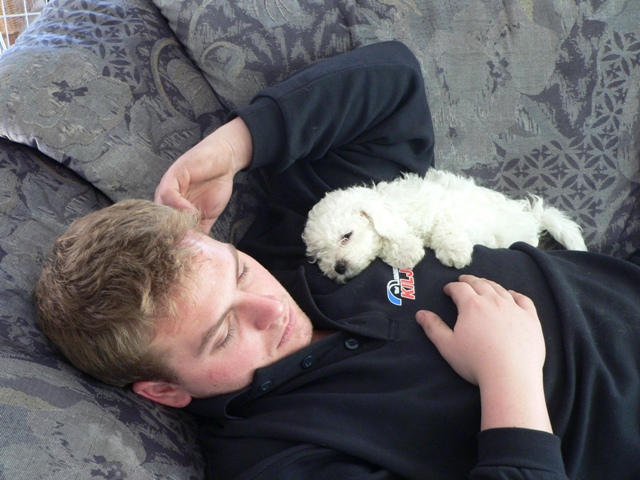 Tired after playing
December 2006
Visiting the fam. Jagers met Peppie(Abayomi).
What a dilightful cuddling dog! Great seeying him again!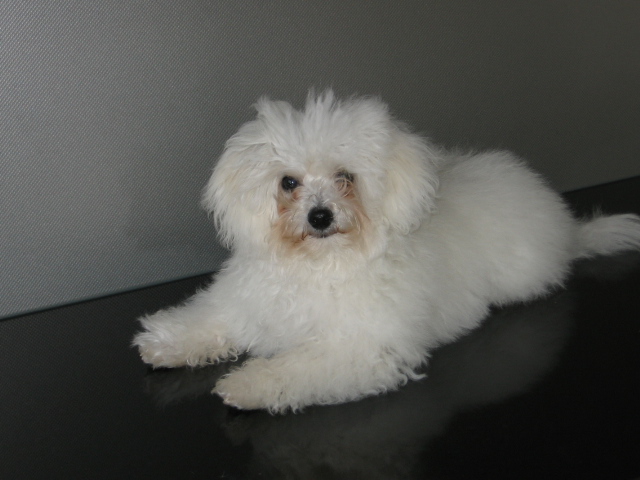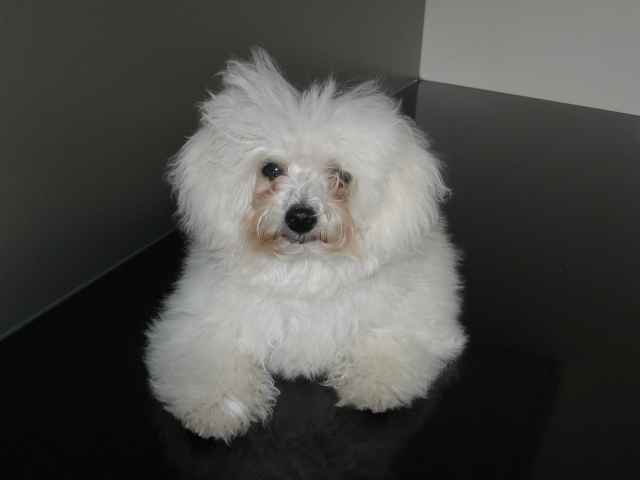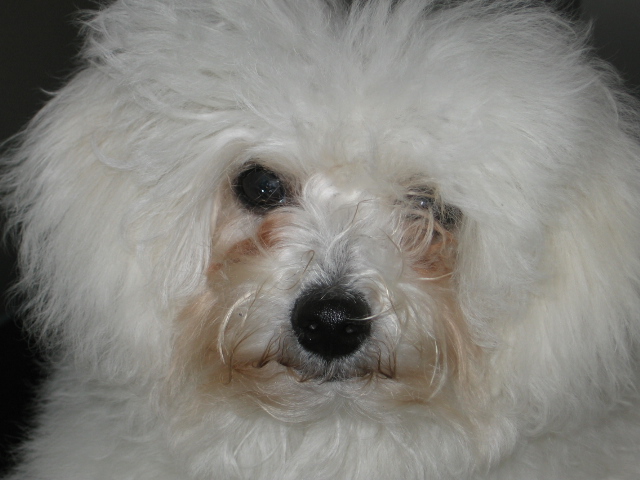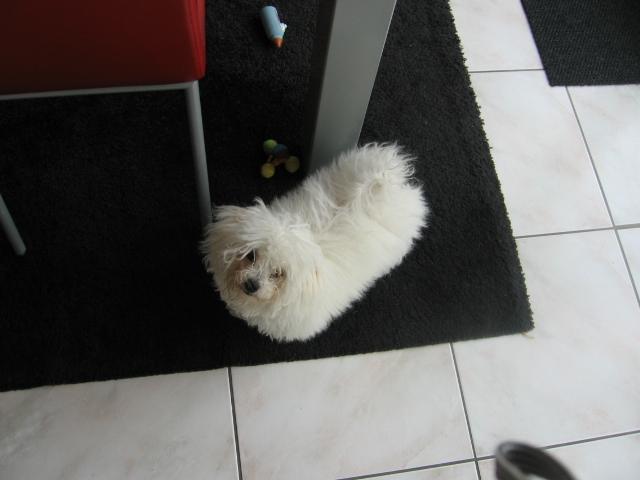 Nomi en Peppie at the fotographer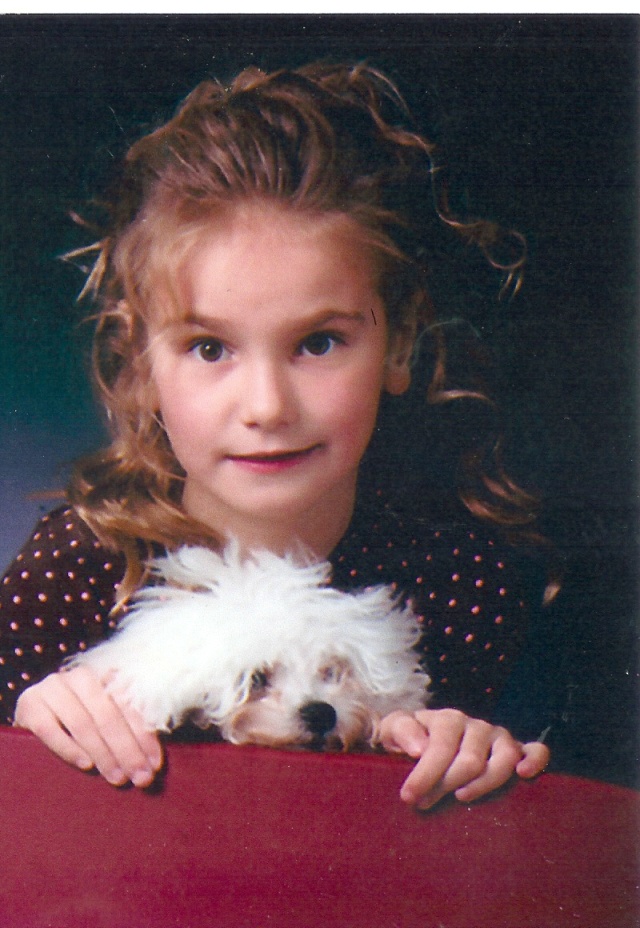 Two beautyful faces!
We met Lyn with Bennett at the Winner 2006 in Amsterdam. 5 mnd.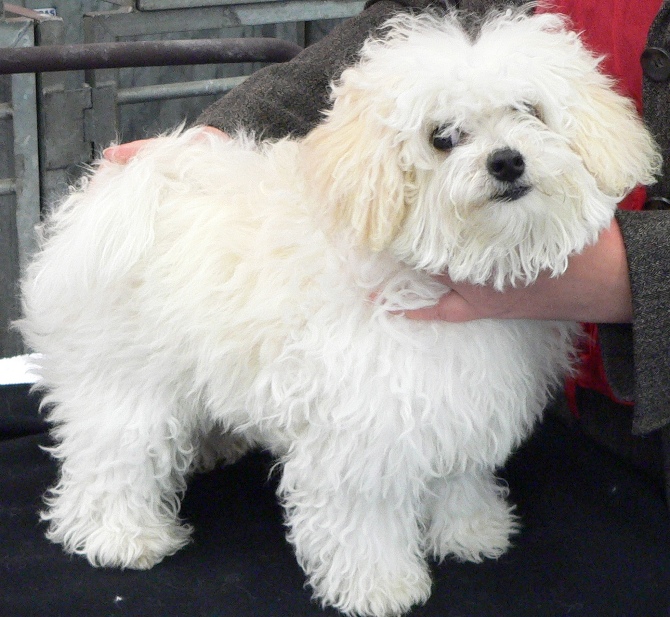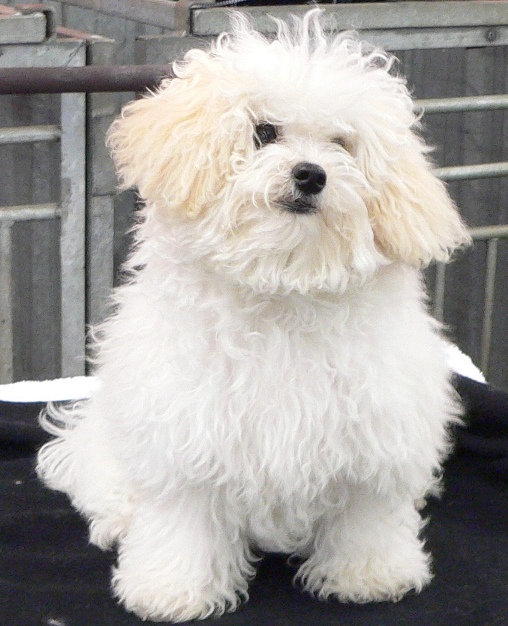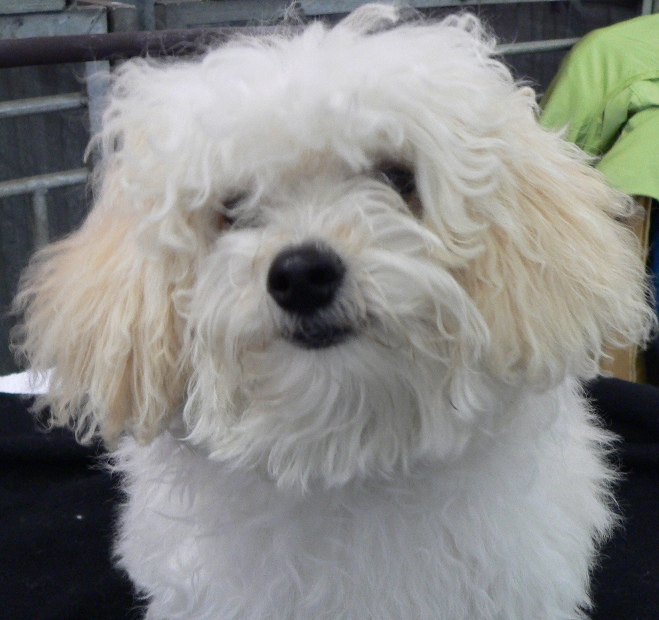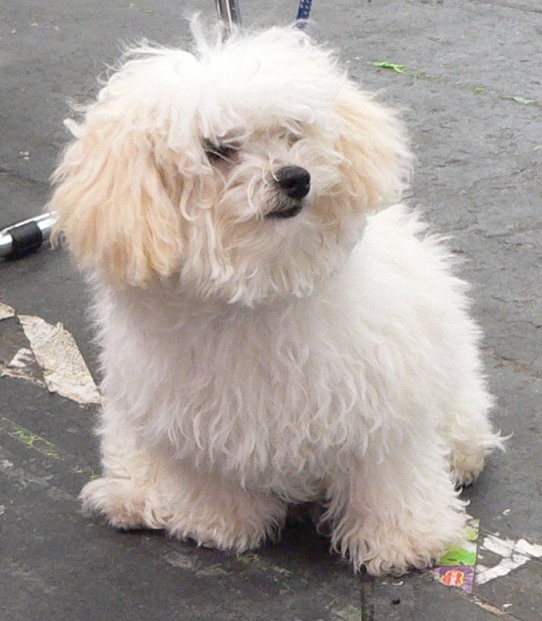 What a dog!!
Bente passes her agility exam starters and advanced in one day!!
At November the 18th Bente was able to do her agility exam. Of course she passed her exam together with her great friend Kelly. What a team!! They managed to do both parts without any mistakes, as only couple of that day. And in a very fast time. Excellent!! Therefore they got two diploma's and two golden medals. We are so proud of 'our two girls'. For pictures look at Agility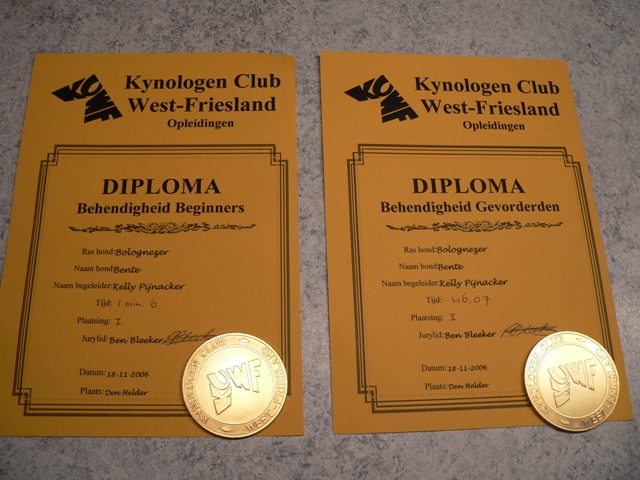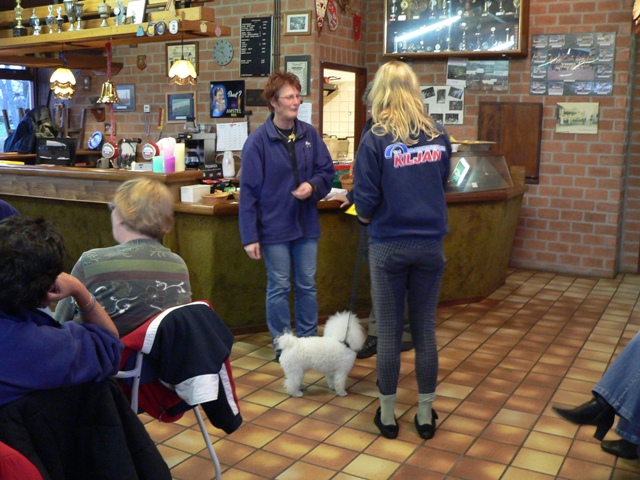 Latest Fotos of Peppie and Nomi: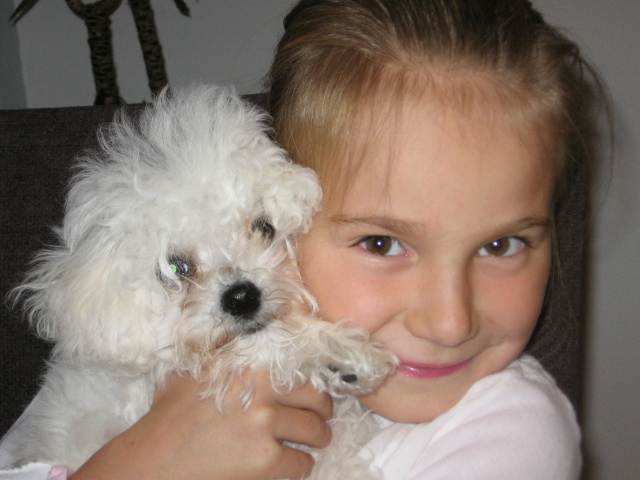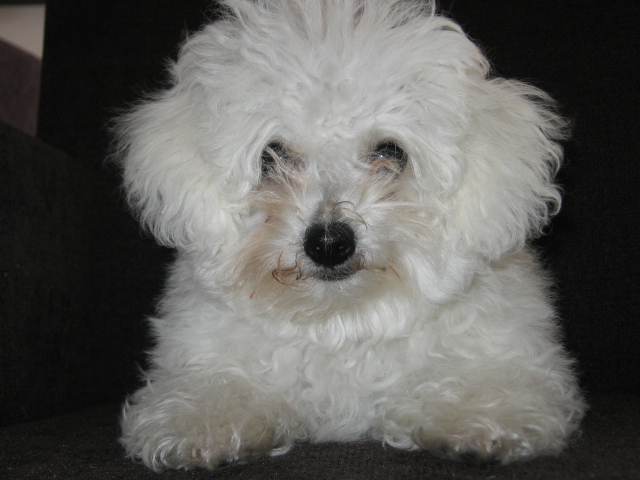 The first show of the pups from Bente en Opal:
Championclubmatch 8 october 2006
the jury was Mrs.J. Brockmann from Germany
Males: 1 Abbaio van het Balgzand 2 Alucio Bennett van het Balgzand
Best Baby of the Bolognese race: Abbaio van het Balgzand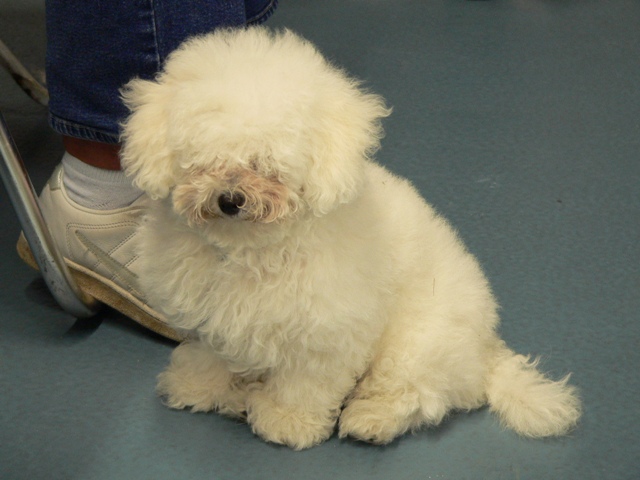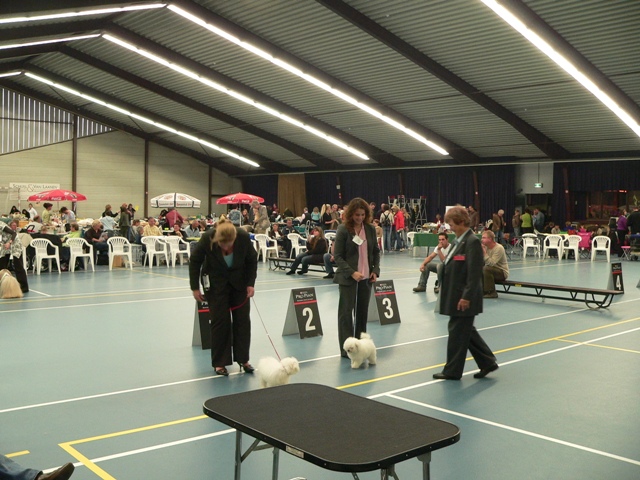 Best Baby of the clubmatch: Abbaio van het Balgzand
Best Baby of all races of the day: Abbaio van het Balgzand very special in the history of the Bolognese, that a dog of this race was picked out to be best of!! We were all as bolognese fans very happy and proud with this result.
Both dogs had a "Viel Versprechend" !! A very good jury-report. We are so proud of them and of their two handlers Yvanka and Lyn!! I do hope to show here many more showresults of this dogs.
A very nice day, whereby 6 Bolognese dogs were shown, 5 of them in the babyclass. This was what you say the 'babyboom' of Opal von der Märchenwiese.
| | | |
| --- | --- | --- |
| | | |
| The whole group together, waiting for showtime | Bennett is sitting very relaxed with Lyn and lets it all happen | Yvanka has a bit more difficult position, but she is managing |
| | | |
| --- | --- | --- |
| | | |
| All trhee males are ready for their first showtime | Abbaio is the first to be on the table | Bennett is also on the table very relaxed |
Abbaio in the ring for Best Baby of the day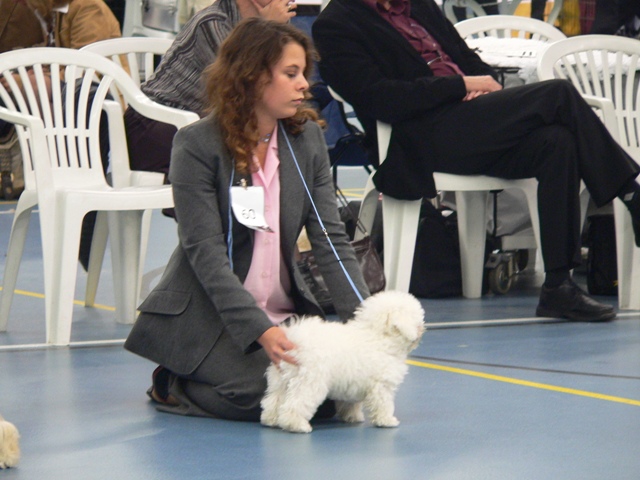 I love this!! The brothers have something else to do in the ring, now the met each other again.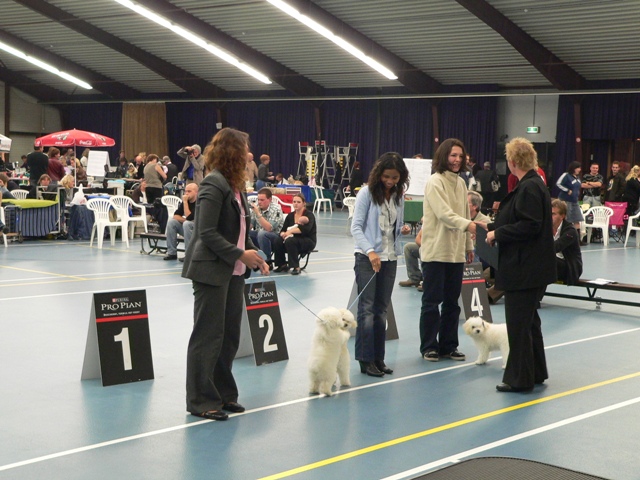 Also outside the ring they now how to have fun.
At last a picture of all baby's and their owners.